Farryn Weiner Wants You to Work from Anywhere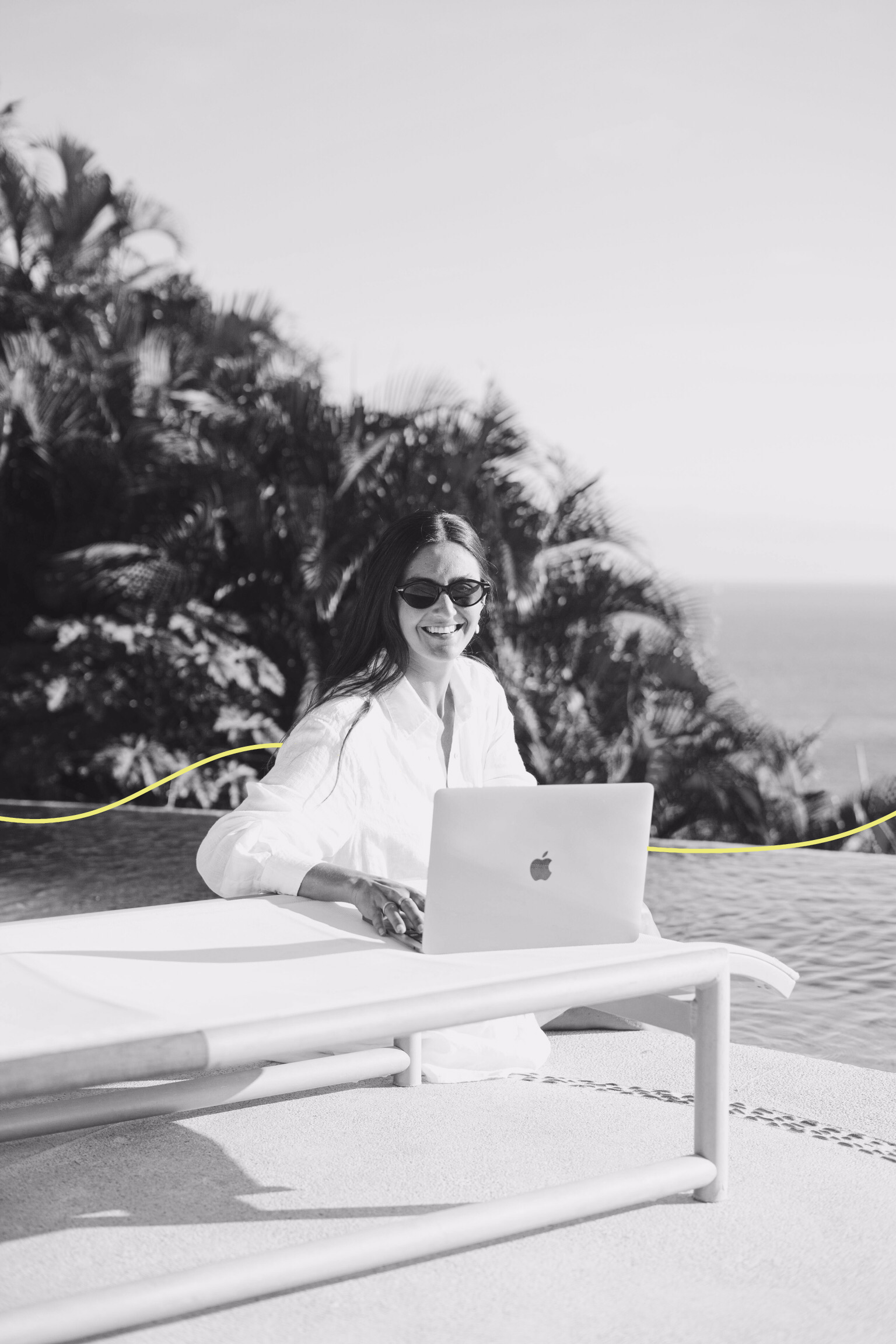 In 2017 Toni Morrison penned a piece for the New Yorker entitled The Work You Do, The Person You Are. In it, she sums up her foray into the working world in one concise sentence, "you are not the work you do; you are the person you are." This idea of a boundary between work and so-called real life is hardly groundbreaking, and something for which anyone climbing the corporate ladder has strived. It protects the sanctity of a personal life from the encroaching stresses of the office, and the emotional burdens of said personal life from the sometimes cutthroat requirements of the business world. Nowadays, though, as the collective population navigates a daily commute from bed to desk, desk to bed, it has become nearly impossible to detach self-worth from the lineup of Zooms and Slacks peppering the weekly calendar. Excitement comes in the form of promptly answered emails, and frustration operates under the guise of spotty wifi. There is little separation between the work you do and the person you are, and if you ask Farryn Weiner, there shouldn't be.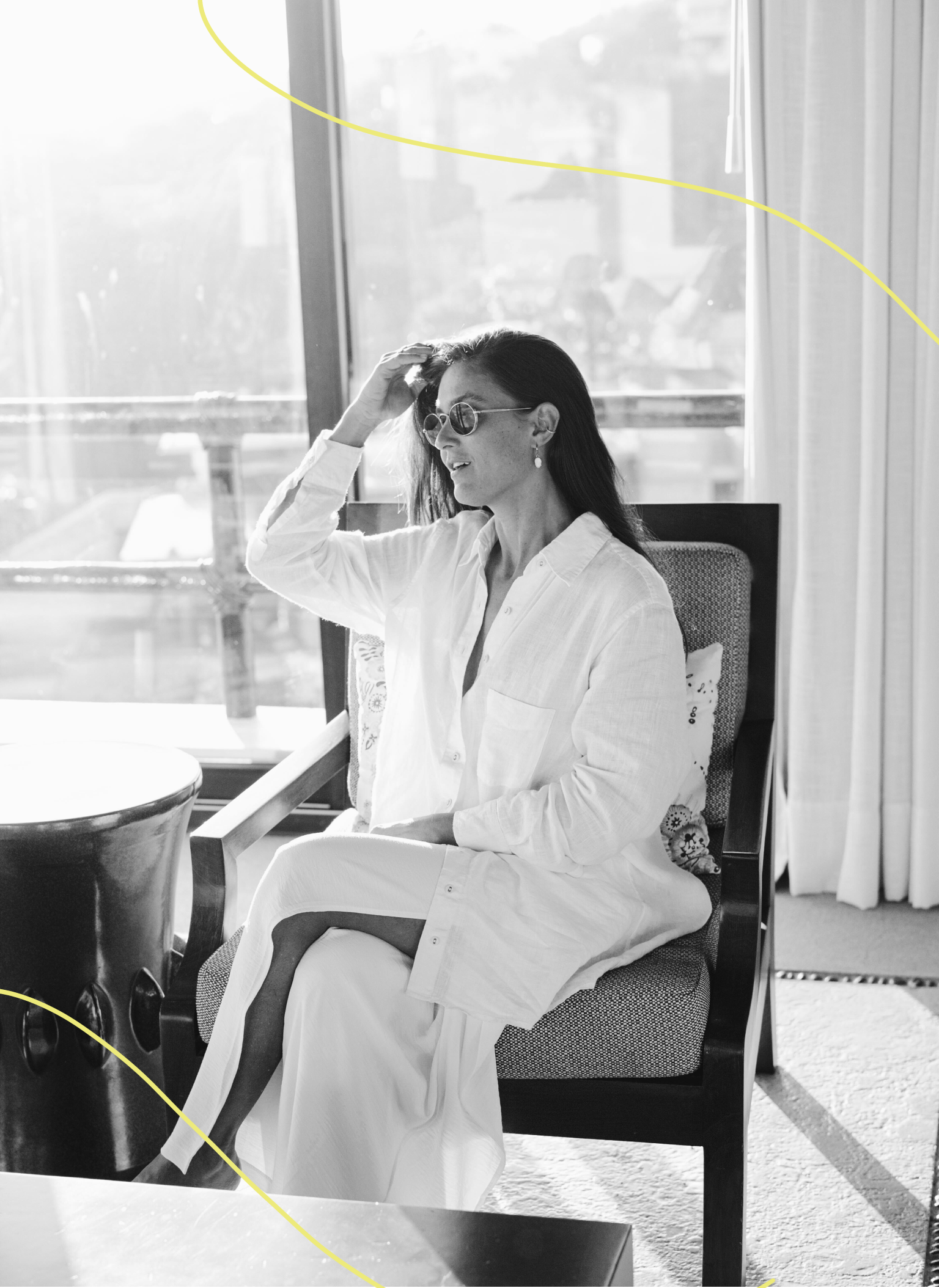 "Can we just get one thing straight," she enters the frame, and immediately you know she has at least fifty unread text messages, "there's no such thing as work-life balance." The statement rings true, it's 3 pm, and she's eating her first meal of the day over FaceTime, examining each bite with intention, yet chewing as if it were a chore. She's built her career — Senior Global Director of Digital and Creative Communications at Michael Kors, VP of Marketing and Brand Innovation at Sweetgreen, and most recently Founder and CEO of branding and marketing agency Farrynheight — based on work seeping into everyday life, brainstorming and iterating around ways to seamlessly bring her ideas into the minds, inboxes, and homes of consumers.
"For the first twelve years of my career, work was life," she pauses to chew, "I built my world around my desk and answered emails with the same amount of eagerness one would show a crush. But everything shifted when I started Farrynheight." She designed her namesake agency to have as much flexibility as humanly (and corporately) possible. Long before working from home was a mandate, she made it an option. "Mobile and global," she smiles widely as she repeats the team mantra, "we have two people in Australia, one in the UK, three in Miami, two in LA, and two more in New York." She admits that timezones are a struggle, but the team is committed to making work, for lack of a better term, work. But where does Farryn herself call home? Currently somewhere in the Mexican jungle, as is evident by the lush background and her enviable tan.
Halfway through the pandemic, she explains, she decided to break her lease in New York, pack up all her belongings, and move. Where to? Anywhere and everywhere. "Travel has always been an essential part of my life," she says, "when I wasn't getting on a plane for work, I was booking a weekend trip to explore. It's how I think I've been able to survive in an all-consuming industry for so long. So when the opportunity to work and live safely away from the norm for an extended period presented itself, it was such a leap of faith but a refreshing reminder of what I value and how I want to live my life."
And that she has, in Mexico for the past three months. Though it may seem like an extended vacation, she's quite clear on one thing: work. "The way I live my life governs how I show up during work hours just as the work I do from 8 am to 8 pm defines who I am," she clarifies, "the two aren't mutually exclusive, nor would I ever want them to be. My work gives my life a rich purpose and meaning. Why wouldn't I want my successes and failures to shape the person I am outside of a Zoom call?"
Many roll their eyes at the notion of running a company from a glorified treehouse. Still, Farryn insists it's the future of work. "I know how my choice looks to some, but I also know how rewarding it feels. The stronger you are in your own life, the more you can show up as a leader, friend, colleague, mentor, etc." She explains that she doesn't need a designated desk or the surroundings of an office to feel motivated, "if someone is going to slack off, they're going to slack off. A beach outside your window has just the same amount of distraction power as TikTok or Instagram."
So what is the key to achieving the perfect "work-life harmony," as Farryn calls it? "Retain your rituals and always keep your must-haves on hand. For me, this means I wake up at the same time every day and eat just as I would at home," save her now finished 3 pm brunch, "I keep my schedule the same: my sweat sessions every morning and therapy sessions every Wednesday. If I need to travel or want to explore, I do so on weekends to keep my work week stable." As for her must-haves, she is always within arm's reach of favorite products. Biossance serum keeps her skin glowing, Paume hand sanitizer because COVID-19, and Twice Toothpaste for some minty freshness, to name a few.
Though her setup may seem fleeting, when it comes to the future of work Farryn is steadfast in her vision, "I see a transition happening from work being a bottleneck to a gateway, grounded in a better quality of life for every individual that fuels them and keeps them at their best. More connected and more comfortable." She's committed to building a company that is pioneering a path to remote productivity and normalizing how that looks to the outside world. After all, success comes in all shapes and sizes and, to make it there, you might have to leave your desk.