Our New Way to Wind Down Involves a Special Nighttime Toothpaste
Our morning routine is all about prep: a refreshing cleanser, priming moisturizer, brightening eye cream, sun protection, supplements, the list goes on. Everything comes together to get us ready to tackle the day. Nighttime, however, is about pampering and recovery. Repair serums, balms, and hair masks are layered slowly and deliberately. We give so much thought to where these products fit into our lives, but one thing shows up at both beginning and end of day with little fanfare: toothpaste. Until recently, nothing changed about how we brushed in the morning vs. at night. More specifically, we picked up the same tube of toothpaste. Then we met Twice, and started switching things up.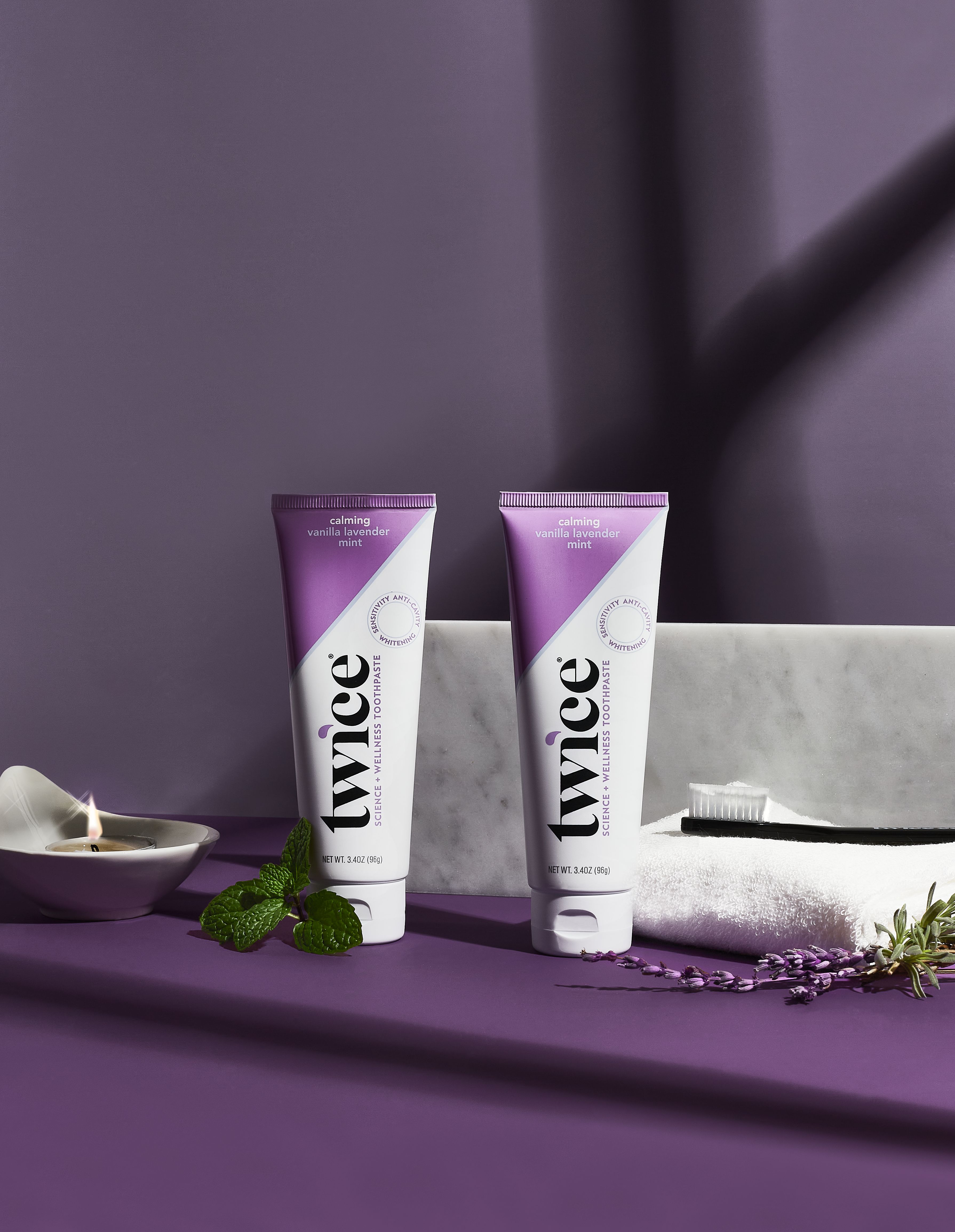 Twice is a clean toothpaste line with deliberately different flavor options. Invigorating Wintergreen and Peppermint, check - the perfect way to wake yourself up and start your day. At night, we now like to do something different, and brush with Twice's unique Calming Lavender Vanilla Mint toothpaste. It may sound like something from the dessert counter, but it's actually a still-super-refreshing-yet-more-soothing flavor profile that totally makes sense at night. Lavender is such a natural complement to the mint, and the combination serves as a relaxing element of our evening ritual. Think about it: you want your products to do totally different things for you in the morning and at night, and you plan (and purchase) around those needs. Your mouth should not be an afterthought. Somehow, brushing with a calming toothpaste at night feels like winding down from the inside out.
We wouldn't recommend you add yet another product to your shelf without a few good reasons. Twice goes above and beyond natural, mainstream, and gentle toothpastes. It's vitamin enriched, whitens naturally, and contains no harsh ingredients that wear down your teeth. It's also specifically formulated to support a healthy oral microbiome and has a neutral pH to limit inflammation. Did we mention the brand is co-founded by Lenny Kravitz? Yes, we're still talking about toothpaste here.
Twice's invigorating and calming tubes come in a duo pack, so you can get them together like the fraternal twins they are. Doubling down on dental hygiene with a highly intentional, routine-based set of products is a great way to establish healthy habits for a lifetime. For example, we all know flossing is one of the most important things that sometimes slips our minds… but if you're putting as much thought into WHY you're using a certain toothpaste as you are a specific moisturizer, chances are you'll start to layer in the additional steps. Flossing is the retinol of oral care.
So make your toothpaste an active choice in how you get ready and get unready. Not just a generically functional product, but something that does good for your body, mind, and the world. One more reason we love Twice: when you shop their toothpastes, you're supporting their partnership with the GLO Good Foundation, which provides free dental care to people in need.