Daily Electrolyte Mix - Lime 14-Pack
- Made with Organic Ingredients
- Advanced formula based on WHO's ORS research
- Hydrates up to 3x faster than water alone
- No added sugar or artificial sweeteners
- Gluten free, Non-GMO, Plant-based, Vegan
- Made in the USA
1. Tear open
2. Mix with 8-16 oz of water
3. Shake or stir
4. Drink and enjoy
Coconut Water Powder, Non-GMO Citric Acid, Organic Flavor, Pink Himalayan Salt, Sodium Citrate, Lemon Juice Powder, Organic Stevia Extract, Monk Fruit Extract.
CONTAINS: Coconut
PAIRS WITH
"Tastes great! I love this flavor, love cure so much more than the other competitor, doesn't have the fake taste to it. Drinking it daily as I am breastfeeding!"
"I bought these for a lower sodium option (previously using LMNT), the flavor is fine, not offensive or too much. I do put it in a full Nalgene (32oz I believe). I like the variety pack to get to sample them. They do require quite a bit of shaking to dissolve the powder, it clumps when it hits the water...but with some shaking it does dissolve well."
"Keep drinking it! At first it was a lil odd tasting problem because I have a huge 40oz water bottle and I was so used to diluting he propel packets. But it got better once I got used to it. Will definitely be ordering more."

- Made with Organic Ingredients
- Advanced formula based on WHO's ORS research
- Hydrates up to 3x faster than water alone
- No added sugar or artificial sweeteners
- Gluten free, Non-GMO, Plant-based, Vegan
- Made in the USA
1. Tear open
2. Mix with 8-16 oz of water
3. Shake or stir
4. Drink and enjoy
Coconut Water Powder, Non-GMO Citric Acid, Organic Flavor, Pink Himalayan Salt, Sodium Citrate, Lemon Juice Powder, Organic Stevia Extract, Monk Fruit Extract.
CONTAINS: Coconut
PAIRS WITH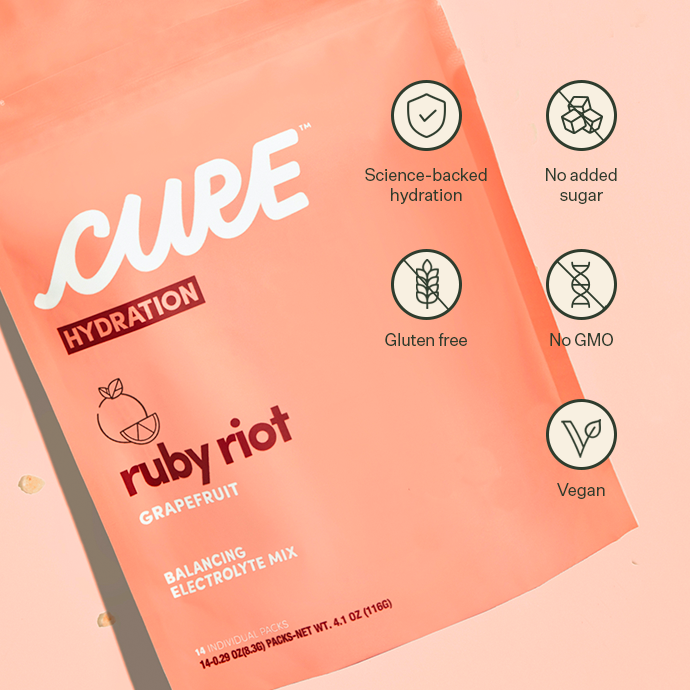 Combating dehydration is much more than just drinking more water. When you sweat, you lose electrolytes (mostly sodium) and replacing those electrolytes is the secret to staying hydrated and that's where Cure comes in. The natural electrolytes in each pack of Cure help you rebalance and hydrate more effectively than water alone.
Unlike the sugary, fluorescent-blue sports drinks from your past, Cure was formulated for effective hydration without all the junk. Cure has 4x the electrolytes of leading sports drinks and is made with real ingredients like organic coconut water, pink Himalayan salt, and lemon juice. No added sugar or anything artificial - just the ingredients your body needs for optimal daily hydration. Say hello to the sports drink of adulthood.

"Recovery was always a challenge for me and although I was drinking plenty of water, it wasn't enough. I decided to create a solution that could hydrate effectively but contained only organic, premium ingredients and no added sugar. When it comes to our health, we shouldn't have to make trade-offs."
Lauren, Founder & CEO of Cure